We sell Oak Flooring – parquet and solid wood flooring
We sell quality flooring from Quick-Step, Edelholz and TMP Royal. The floor is one of your biggest furniture, so it is important to choose the right floor that gives you a feeling of comfort.  
Choose the right floor
Parquet is graded and priced according to the number of strips, from one, two or three strips, which describes the pattern of the floor. Sorting, surface, colors, planing and type of wood determine the price.
All our suppliers have floors dried to 7% (+/-2%) and which are approved for underfloor heating.
Vyrk sells everything from 3-strip parquet to solid flooring in 400mm width, but with quality as a common designation regardless of choice. Our suppliers take environmental consideration and are committed to preserving the renewable resources that are extracted. The value of being able to choose profiles, materials and colors of floors, panels and moldings at the same time is an important factor for a good end result.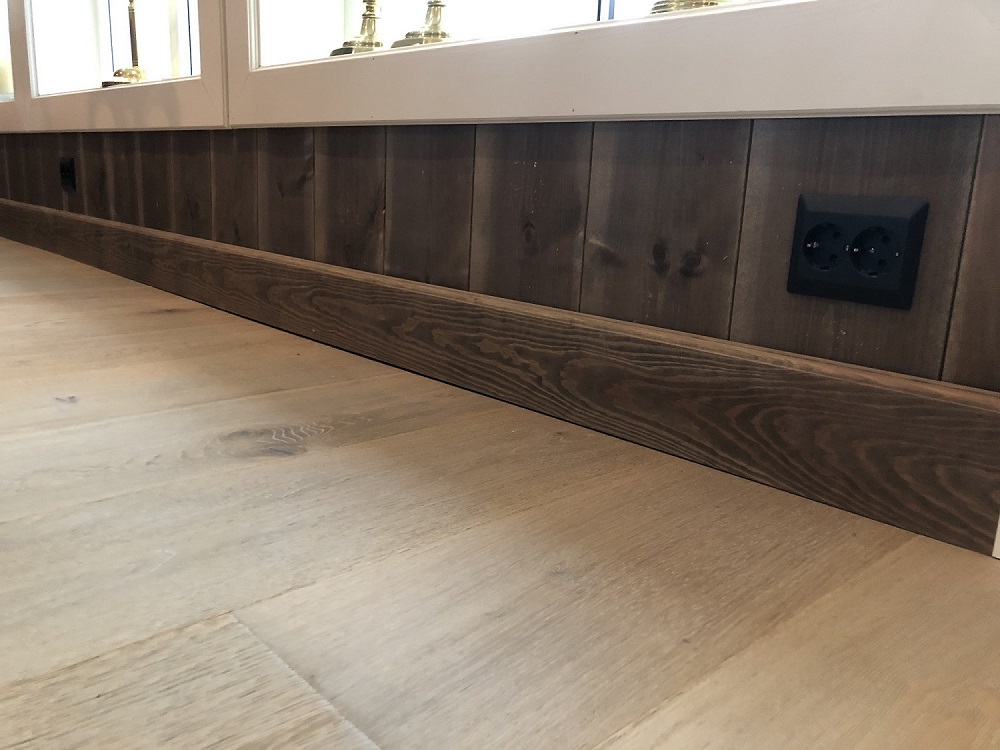 Maintenance of the floor
Depending on the use of the floor, maintenance oil treatment must be performed regularly to help preserve the floor as best as possible. We suggest you use white oil on white floors, natural care oil for natural floors, and dark for dark shaded floors. Thoroughly clean the floor with parquet cleaner and allow the floors to dry completely before applying maintenance oil.
TMP-Royal
TMP-Royal comes with a top layer of hardwood on water-resistant siberian plywood in birch. Colors and surfaces adapted to the nordic market in three varieties: rustic, nature and select.
1-strip parquet, two layers with top layers of 3, 4 or 6 mm of oak glued on base of 9, 12 or 15 mm plywood. This floor is available in many more widths and colors.
Edelholz
Solid wood flooring of high quality. 1-strip solid floor or 3-layered oak available in many widths and colors. Herringbone/chevron floor is available in 3-layered oak or 1-strip solid floor.
Les mer på Edelholz.nu
Quick-Step
Quick-Step three-layered parquet in solid wood, covered with a protective finish. The choice of raw materials, and a strictly controlled production process will guarantee optimal stability and durability.
1-strip click-parquet with top layer of 3 mm oak glued on a base of 11mm. Also available in 12,5 mm thickness, as well as several different widths and colors.
Les mer på quick-step.nu